2017 Season: 28 March to 26 November
Discover Oceans of Fun at Zoomarine in Guia. Located just a few kilometers from Albufeira in the central Algrave, Zoomarine is a full day of fun for the entire family.
Live show attractions include performances by seals and sea lions, dolphins, birds of prey, tropical birds and aerobatic divers.
Bring your swim suit because Zoomarine also has a large Beach waterpark attraction, Rapid River and HaraKiri water slides.  Sun shade and lounge chair rentals are available, as are changing rooms.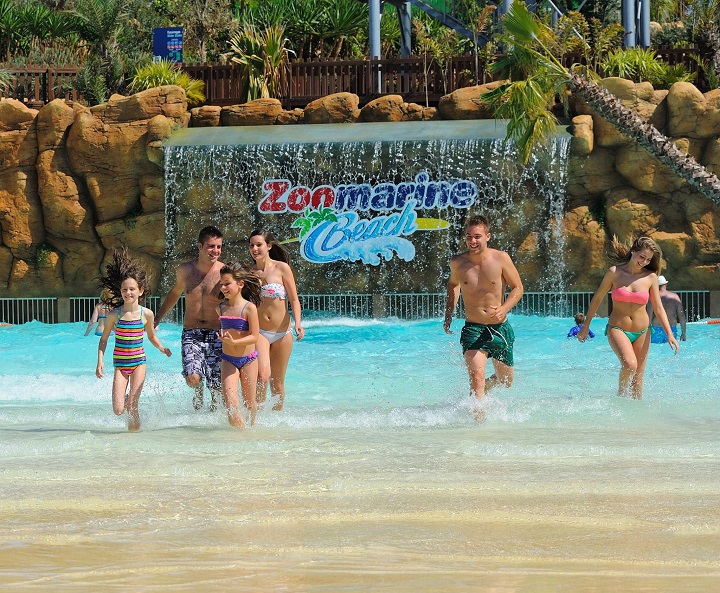 Have fun with pirates!  Visit the Baia dos Piratas for a rough and tumble, rowdy and rip-roaring fun acrobatics show.
For family convenience, Zoomarine also has: free car parking; snack bars and restaurants; shops; photo lab; trolley/kiddie cart rentals; safes and lockers; first aid station; wheel chairs; cash machines.
Click here to see a map of Zoomarine.
For more information and to buy tickets, visit the ZooMarine website.
Zoomarine Theme Park
Estrada Nacional 125
8201-864 Guia
Albufeira
Phone: +351 289 560 300
Email:  apoio.cliente@zoomarine.pt
Hours of operation vary depending on time of year. Please consult Zoomarine website for your desired day.
Entrance Price:
Children (up to 10 years) – €20.00
Adults (11-64) – €29.00
Seniors (65 and over) – €20.00
To learn about the ZooMarine Dolphin Emotions click here.
--------------------------------------------------
--------------------------------------------------