Spend the day surrounded by nature. The Tapada Nacional de Mafra is a grand monument, once known as The Royal Hunting Reserve.
The park is a masterpiece of the Portuguese Baroque and was created by King João V as a leisure park for the royal family, between 1744 and 1748. At the time of King Luís and King Carlos, the estate lived its golden period as a hunting reserve. Since 1975, the park has been open to the public for the enjoyment of the flora and fauna.
Visitors can explore the park in many ways. Trails are organized in several lengths so that families can devote as much time as they like. Mountain biking trails are also available for those who prefer to pedal. And, for those who would like to sit back and observe, a train runs regularly on weekends. This ride, which lasts about two hours, is only available at weekends and national holidays. The departure takes place in Portão do Codeçal in the morning (10.45) and in the beginning of the afternoon (15:00). It is advised to pre-book tickets. (During December to January the train will only be available if booked for groups of more than twenty people.)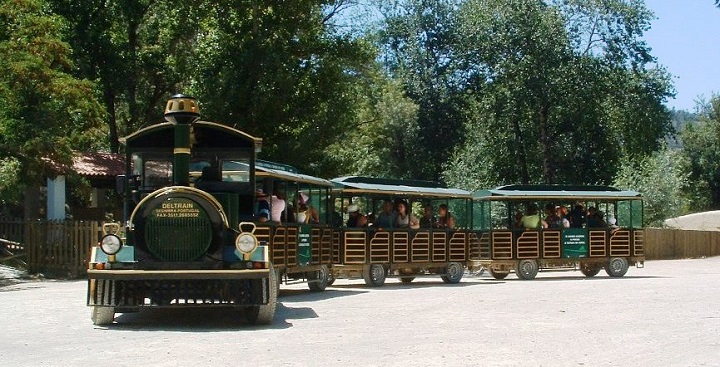 On the trails, visitors are likely to spot wild boar and red deer. If you're quiet enough, it is also possible to cross paths with foxes, jennets (small Spanish horses), mongoose and a great variety of birds such as the barbary partridges, cuckoos, larks, thrushes, song thrushes, kingfishers and owls.
Another popular attraction at the park is the 19th century Hunting Museum , complete with taxidermy animals and old weapons.
The park is about 45 minutes drive north from Lisbon. For more information, visit the Tapada Nacional de Mafra website.
Tapada Nacional de Mafra
Portão do Codaçal
Mafra
Lisbon
Phone: +351 261 817 050 (Monday to Friday) | +351 261 814 240 (weekends and national holidays)
Email: geral@tapadademafra.pt or informacoes@tapadademafra.pt
Hours: Everyday – 9.30 to 17.30
Prices: Each of the trails have a price structure ranging from €5.00 -7.00
The guided tour by train carries these prices:
– children (under 4): free entrance
– children (4 to 10): €6.00
– adults: €11.00
– seniors (more than 65): €8.00
– family ticket (2 children and 2 adults): €28.00
--------------------------------------------------
--------------------------------------------------