Portugal dos Pequenitos is an entire mini Portugal all wrapped up in one, fun, theme park.
This theme park for kids features replicas of important and traditional structures from across Portugal. Yet these buildings have been reduced to a much smaller scale, so that the little ones can get an up-close look and greater appreciation for significant monuments of the country.
Theme areas include:
■ Portugal and Its Monuments – Famous and noteworthy monuments of Portugal are recreated in small scale.
■ Portuguese Language Countries – Portuguese-speaking countries of Brasil, Macau, Índia and Timor are represented in various structures, sculptures and gardens.
■ Madeira & Azores – Buildings and landscapes of the autonomous regions of Portugal. Ponds surrounding this area represent the ocean around these island locations.
■ Coimbra – The host city of Portugal dos Pequeninos receives its own section too. A beautiful model of the Coimbra University is the prominent attraction.
■ Regional Houses – Architectural designs of traditional houses are on display, and ready to be occupied by children.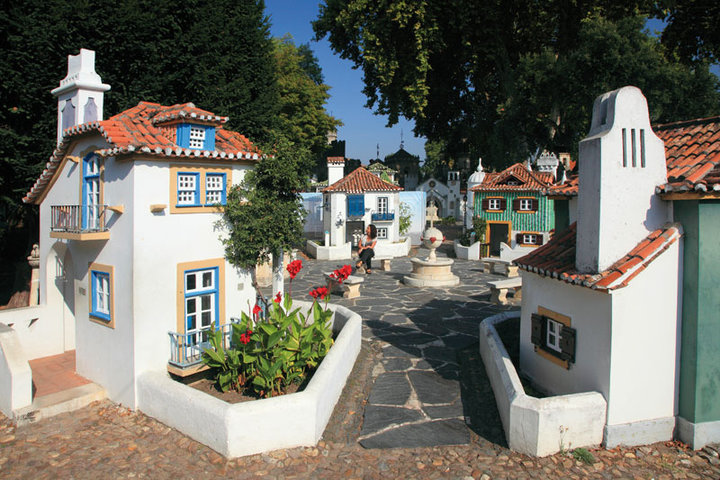 Also onsite are museums dedicated to Portuguese costumes, furniture and the Portugal navy.
At Portugal dos Pequenitos, children play in a world that seems grown-up, but is really perfectly sized just for them.
For some information visit the Portugal dos Pequenitos website.
Portugal dos Pequenitos
Rossio de Santa Clara
Coimbra
Phone: +351 239 801 170
Email: portugalpequenitos@fbb.pt
Hours:
■ 1st January to 28/29th February and 16th October to 31st December – 10:00 to 17:00
■ 1st March to 31st May and 16th September to 15th October – 10:00 to 19:00
■ 1st June to 15th September – 9:00 to 20:00
Prices:
■ Children under 14 – Free
■ Children (3 to 14) – €5.95
■ Adults (14 to 64) – €8.95
■ Family Ticket (2 adults + 2 children between 3 to 13) – €25.95
■ Handicapped – 50% discount
■ Seniors over 65 – €5.95
--------------------------------------------------
--------------------------------------------------