Pena Palace (Palácio Nacional da Pena) is the most complete and notable example of Portuguese Romantic architecture.
Originally the palace was the former Hieronymus Monastery of Our Lady of Pena, built by King Manuel 1 for the Order of St. Jerome in 1503. After the earthquake of 1755, the monastery fell into decline. The Order left the monastery. However, in 1839, King Consort Dom Fernando II of Saxe Coburg-Gotha (1816-1885) bought the ruins, restored the monastery, chapels and cloisters, and transformed the building into a royal palace. After Dom Fernando's death, the palace was sold to the State.
Pena Palace is now open to the public. The building has been fully restored, and the furniture reupholstered. Inside, visitors tour Queen Amelia's bedroom, the living and entertaining areas and the kitchen. Walking around the grounds provides beautiful views of the castle, as well as the cities of Sintra and Lisbon in the distance.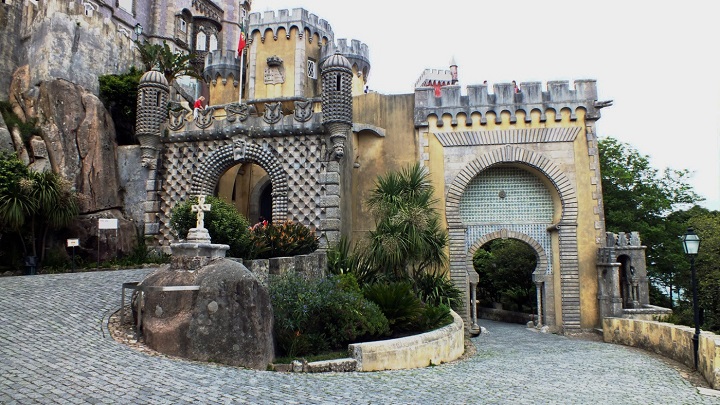 Families also enjoy a walk in the Pena Park, among very old vegetation and pavilions built in various architectural styles, fonts, waterspouts, small corners, a gazebo, lakes and waterfalls.
Also in the immediate area are the Chalet of the Countess of Edla, Capuchos Convent, Monserrate Park and Palace, Moorish Castle, Sintra palace and Queluz Palace.
For more information visit the Palácio Nacional da Pena website.
Palácio Nacional da Pena
Estrada da Pena
Sintra
Lisbon
Phone: +351 219 105 340
Email: info@parquesdesintra.pt
Hours: 9:30 to 20:00 (closed 1 January and 25 December)
Prices:
Palace | Full Access (includes visiting all areas and the park)
■ Children under 5 – Free
■ Children under 17 – €11.00 / €10.00*
■ Adults under 65 – €13.50 / €12.50*
■ Seniors over 65 – €12.50 / €10.50*
■ Family (2 adults + 2 children) – €47.00 / €43.00*
■ Lisbon Card – €11.50
* Happy Hour: everyday from 9.30 to 10.30
Palace | Terraces (includes the Palace exteriors and the park)
■ Children under 5 – Free
■ Children under 17 – €8.00
■ Adults under 65 – €10.00
■ Seniors over 65 – €9.00
■ Family (2 adults + 2 children) – €34.00
--------------------------------------------------
--------------------------------------------------