We await news about Vila Natal 2017.  In the meantime, learn more about this festive event from our 2016 post…
Once upon a time in a little Portuguese village, there was a Christmas party with all of the children's favorite fairy tale characters!  For 2016 the theme is Story Book Christmas.  So, Moms and Dads and Grandama and Grandpa, as well as all of the kids, will get to meet the stars and interact in the stories like, 20,000 Leagues under the Sea, The Little Prince, Alice in Wonderland, Puss in Boots and many more.
--------------------------------------------------
--------------------------------------------------
Vila Natal is full of surprises for the "kid" in all of us! Inside and outside the castle walls are shops, food stands, exhibitions, activities and showsMany other surprises are in store in the Christmas Village. Let the kids burn their holiday energy at the many winter-themed activities. There are inflatable houses and games, as well as pedal carts, ice skating rink, magic carousel, a long Alpine ice slide, Christmas labyrinth.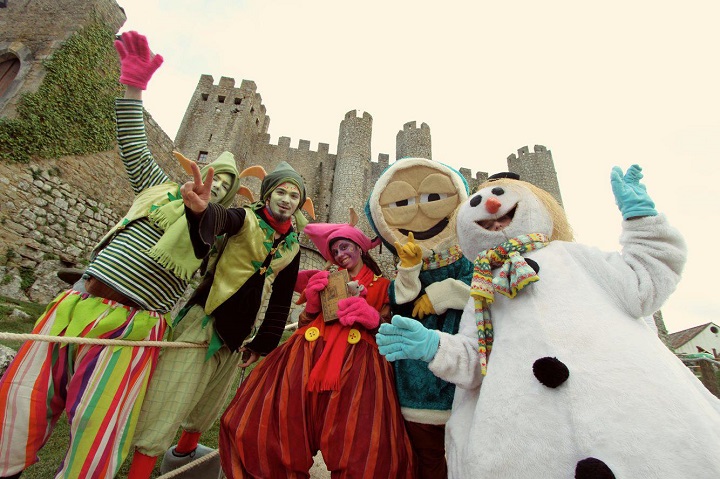 No doubt Santa's House and Toy Factory will be a highlight. See where Santa's busy little helpers are preparing and shipping gifts for good little boys and girls. In the Christmas Workshop, kids are transformed into characters with painted faces and styled hair.
For more information, visit the Vila Natal website.
Vila Natal
In and Around the Castle of Òbidos
Óbidos
Óbidos is accessible by car via Highway A8 (Lisbon-Leiria) or A15 (Santarém-Óbidos), as well as IP6 (Peniche-Óbidos). Take the following exits:
■ A8 North – Exit 16 – Gaeiras/Óbidos
■ A8 South – Exit 15 – Óbidos
Schedule:
■ 30 Nov, 5-7, 12-16, 24, 31 December – 11:00 to 16:00
■ 1-4, 8-11, 17-18, 19-23, 26-30 December – 11:00 to 19:00
■ 25 December & 1 January – 16:00 to 20:00
Entrance:
■ Adult over 12 – €6.00 up to 16 Dec. | €7.00 from 17 Dec.
■ Children – €5.00
Information & Reservations
■ Telephone: +351 262 959 231
■ E-mail: reservasnatal@cm-obidos.pt