Take a trip through time and see transportation from centuries past. The National Coach Museum tells the story of how royalty and everyday people got around before there were cars, trains and planes.
Portuguese Queen Amelia of Orleans-Braganza, wife of King Charles I, opened the Royal Coach Museum in 1905. It was intended to ensure the preservation of ceremonial vehicles from the Royal House of Portugal.
The site chosen for its installation was the Royal Riding School in Belém. It was where the royal family already stored the main vehicles of the court. After the establishment of the Republic in 1910, the Museum was renamed the National Coach Museum and other vehicles of the Crown, the Patriarch of Lisbon and some noble houses were added to the collection.
On display are ornate royal carriages used by monarchs and Popes, cabriolets and chaise coaches…and even sedan chairs. Accessories for early transportation are quite interesting too, with lamps, harnesses, procession drums and banners, as well as beautifully crafted saddles. 19th century court and coachman costumes complete the collection.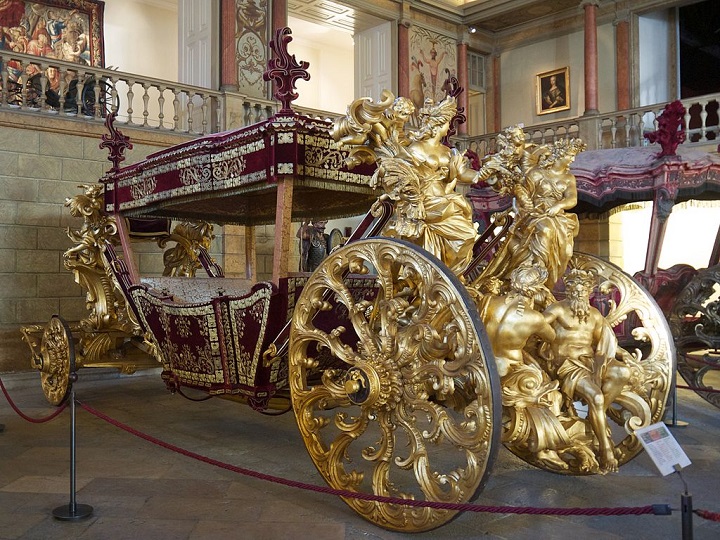 Click here to download a National Coach Museum program.
The coach collection stretches out over several halls in the museum complex. There is also a museum library consisting of coach -related documents accessible to the general public and a museum shop where visitors can buy a souvenir.
For more information visit the National Coach Museum website.
Museu Nacional dos Coches
Praça Afonso Albuquerque
Lisbon
Phone: +351 213610850
Email: geral@mncoches.dgpc.pt
Hours: Tuesday to Sunday – 10.00 to 18.00 (Closed on Mondays: January 1st, May 1st, Easter Sunday and December 25th)
Prices:
– Sundays and national holidays: free entrance
– General ticket: €5.00
– Seniors (over 65): €2.50
– Youth-Card holders: €2.00
– Family ticket: 50% discount for children (15-18) when accompanied by a parent
--------------------------------------------------
--------------------------------------------------