The Monument to the Discoveries (also known as Monument to Mariners) sits prominently on the right bank of the Tagus River. Erected in 1940 during for the Portuguese World Exhibition, the monument honors those involved the great period of sea navigation (14th and 15th centuries) known as the Portuguese Discoveries.
Surrounding the monument are 33 statues of important figures from the Age of Discoveries. Henry the Navigator stands proudly holding a carrack (sailing ship). He is accompanied by Afonso V of Portugal, Vasco da Gama (discoverer of the sea route to India), Pedro Álvares Cabral (discoverer of Brazil), Ferdinand Magellan (first to circumnavigate the globe), Bartolomeu Dias (first to cross over the Cape of Good Hope), and Diogo Cão (first to arrive to the Congo river), just to name a few.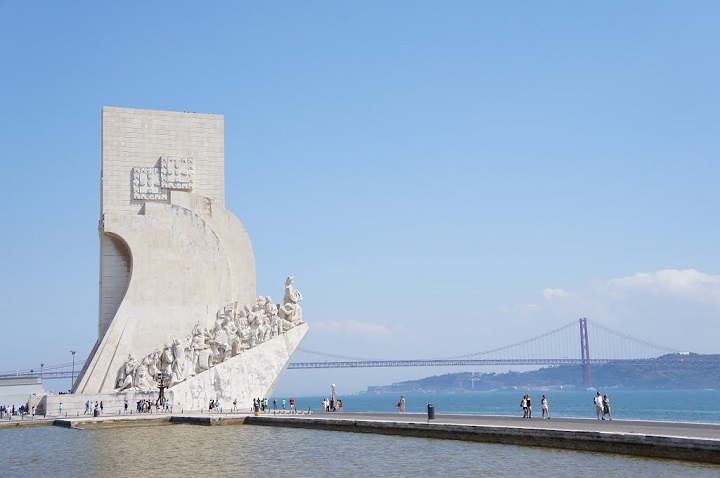 Inside the monument, there is an auditorium with multimedia show, and two exhibition halls. On top of the monument provides beautiful views of the river and Lisbon.
Families can check the calendar on the website to learn about workshops and activities for kids such as Fantastic Puzzle, Treasure Hunt and Monsters under the Tongue.
For more information visit the Monument to the Discoveries website.
Monument to the Discoveries
Avenida Brasília
Lisbon
Phone: +351 213 031 950
Email: info@padraodosdescobrimentos.pt
Hours:
■ March to September – 10:00 to 19:00
■ October to February – 10:00 to 18:00
■ Opened every Monday from May to September
■ Closed on 1st January, 1st May and 25th December
Prices:
■ Children under 12 – Free
■ Children from 12 to 18 – €2.00
■ Standard Ticket – €3.00
■ Family ticket (2 adults + 2 children from 12 to 18) – €8.00
■ Lisbon Card – €2.00
--------------------------------------------------
--------------------------------------------------