The Fábrica (or "factory") is an old industrial building transformed onto a modern learning attraction for kids. It is located at the University of Aveiro. Ciência Viva (with locations in cities throughout Portugal) manages a diverse schedule of programs to entertain and educate kids, families and school classrooms.
Children can experience exhibitions such as Hands in the Mass (Mãos na Massa), an interactive exhibition in which visitors play with the laws of optics through the handling of an Optical Labyrinth. They can observe the differences in body temperature with a thermal camera. They also write messages in Morse code, or have their hair stand up with the Van de Graaff generator.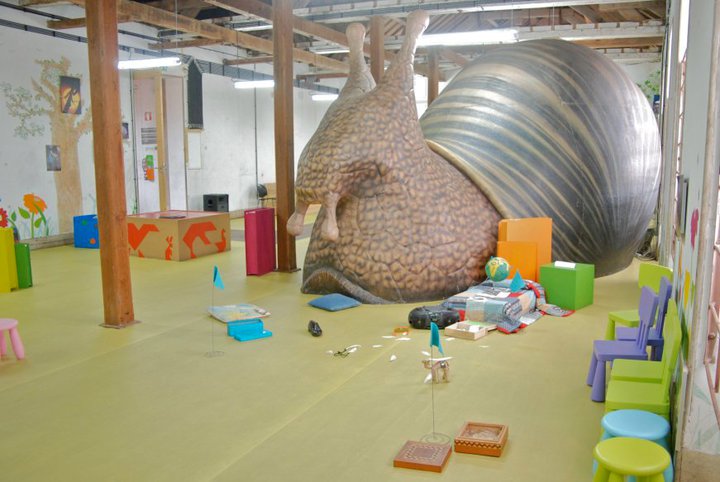 Creative environments, such as a theatre in a giant snail, a play kitchen, a TV studio and a Robo Room, make the learning fun and fascinating.
For more information visit the Fábrica – Centro de Ciência Viva website.
Fábrica – Centro de Ciência Viva
Rua dos Santos Mártires
Aveiro

Phone: +351 234 427 053
Email: fabrica.cienciaviva@ua.pt
Hours:
– Tuesday to Friday – 10:00 to 18:00
– Saturdays, Sundays and public holidays – 11:00 to 19:00
– Closed on Mondays
Prices:
– Children (under 2 years) – Free
– Children 3 to 18 years – €4.00
– Seniors (over 65) – €4.00
– Family ticket (2 adults and 2 children) – €13.00
– Groups (+ 10 people – Full day):
– 3 to 5 years – €2.50
– 6 to 18 years – €4.00
– Adults – €5.50
– Seniors (over 65) – €4.00
– Groups (+10 people – Half day):
– 3 to 5 years – €2.00
– 6 to 18 years – €3.00
– Adults – €3.50
– Seniors (over 65) – €2.50
--------------------------------------------------
--------------------------------------------------