Not in Lisbon, exactly….but just an hour drive to the north in Leiria is one of the Seven Natural Wonders of the Portugal….The Grutas de Mira de Aire (Caves of Mira de Aire).
This multi-amusement park is one of the biggest natural attractions in Portugal. 11.5 kilometers of caves make up this unique geographical formation. Tourists can explore 600 meters. See how, over thousands of years, rainwater has created beautiful sculptures and textures on the limestone of the cave ceiling, walls and floor.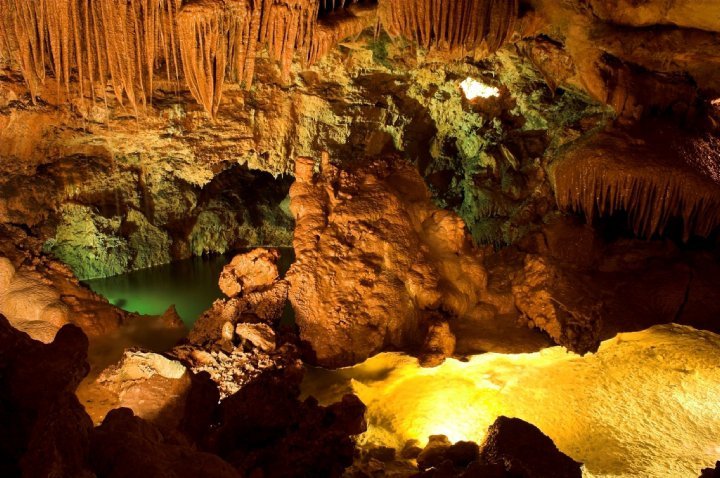 Be sure and bring your bathing suit. This attraction also features the Aguagruta Water Park, with a swimming pool, children Aqualândia, and three water slides. Aguagruta is open from mid-June to mid-September.
The complex has other fun things to do too!
■ Garden of Smells (rich and diverse flora)
■ Animals (foxes, badgers, rabbits, bats and more)
■ Sundial (in the space next to the entrance of the cave primitive is possible to display one of these watches)
■ Windmills (visit this rarity in Portugal while you still can)
■ Reserve your space in special guided expeditions.
■ Restaurant (open every day, with a tranquil and natural landscape)
■ Wines (you can taste the best wines of Portugal and buy it if you want)
For more information visit the Grutas de Mira de Aire website.
Mira de Aire Caves
Avenida Dr. Luciano Justo Ramos
Serra de Aire District
Leiria
Phone: +351 244440322
Email: geral@grutasmiradaire.com
Hours:
October to March – 9.30 to 17.30
April to May – 9.30 to 18.00
June to September – 9.30 to 19.00
July to August – 9.30 to 19.30
Price:
Children (under 5): free entrance
Children (5 to 11): €3.50
General ticket (12 or more): €6.20
Groups (20 people): €5.60
--------------------------------------------------
--------------------------------------------------