The 38th edition of Fatacil Festival, celebrating the heritage of the Aglarve, returns 18-27 of August in the Municipal Festival Grounds of Lagoa.
Kids and adults alike enjoy exhibitions, demonstrations, shops, food and concerts, all featuring the best handicraft, agriculture and traditions of the Algarve. 180 artisans from across Portugal give live demonstrations and sell unique one-of.-a-kind gifts. In the agriculture area, producers of sweets, dairy products, sausages, citrus fruit, dried fruit, honey, cork, canned fish and wine give greater insight, and samples, of their products. In the livestock area, see indigenous breeds of sheep and goats.
--------------------------------------------------
--------------------------------------------------
Portuguese entertainers are scheduled for each evening of the festival.
18 August | Theme: Município de Lagoa Day Artist: Agir
19 August | Theme: Artisan Day Artist: Richie Campbell
20 August | Theme: Fish & Agriculture Day Artist: João Pedro Pais
21 August | Theme: Entrepreneur Day Artist: Os GNR
22 August | Theme: Algarve Gasteronomy Day Artist: Dengaz
23 August | Theme: Lusitano Horse Day Artist: Quim Barreiros
24 August | Theme: Algarve Wines Day Artist: Xutos & Pontapés
25 August | Theme: Crédito Agrícola Day Artist: Matias Damásio
27 August | Theme: Kids Day Artist: D.A.M.A.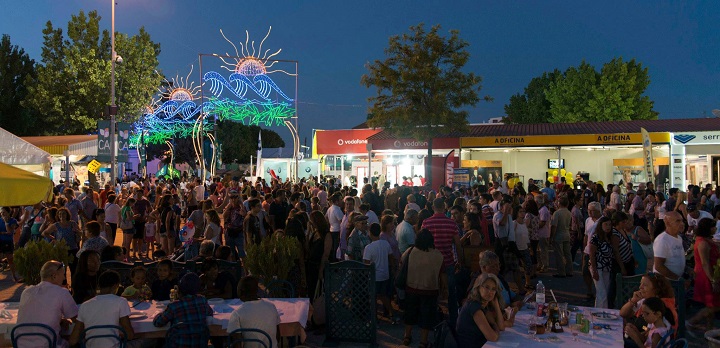 For more information, visit the Fatacil website.
Fatacil Festival
Parque Municipal de Feiras e Exposições de Lagoa
EN 125
Lagoa
Western Algarve
Phone: +351 282 380 465
Email: fatacil@cm-lagoa.pt
Hours:
Weekdays – 18:00 to 01:00
Weekends – 16:00 to 01:00
Entrance: €3.50