Visiting Lisbon? It's hard to miss Castelo de São Jorge (St. George's Castle) high on a hill overlooking the city.
Built in the mid-11th century, when the Moors ruled Portugal, this fort was built on what was considered to be the most difficult spot to access in the area. It's purpose was to house military troops and in case of siege. Eleven towers still remain, including: Torre de Menagem (Tower of the Keep); Torre de Ulisses (Tower of Ulysses); Torre do Paço (Palace Tower); Torre da Cisterna (Tower of the Cistern); and the Torre de São Lourenço (Tower of St. Lawrence).
Unlike many castles in Europe, São George was not primarily a residence. The elite lived in the Alcáçova (citadel). Ruins of this former residence are on display. Also found here is a small door on the northern wall called the Door of Treason which allowed secret messengers to enter or exit when needed.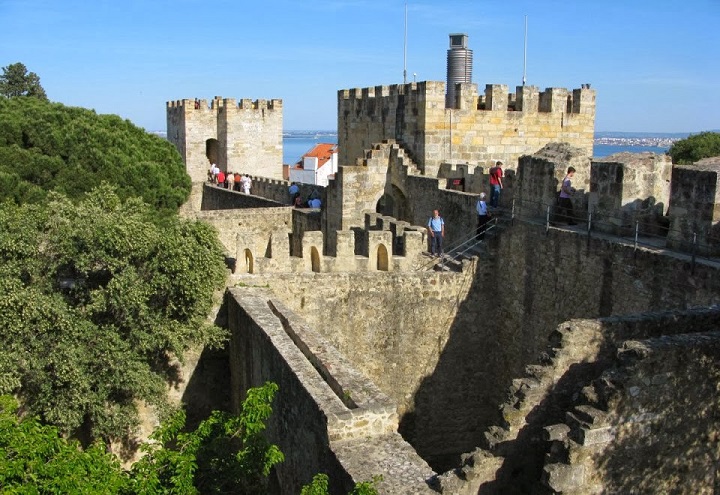 Other attractions at Castelo de São Jorge include:
■  Archaeological excavation site
■  Museum of items dating back to 7th century
■  Garden of Native Species – with cork, olive, carob, oak and umbrella pine trees, as well as fruit trees, in memory of the vegetable garden of the Royal Palace of the Alcáçova.
■  Tower of Ulysses Periscope – medieval optical device developed by Leonardo Da Vinci providing 360º views of the city.
■  Café do Castelo – housed in one of the buildings of the former Royal Palace of the Alcazaba
■  Casa do Leão Restaurant – with stunning views over Lisbon. The sophisticated restaurant is known for its rich traditional Portuguese cuisine.
■  Schedule programs of activities and entertainment.
■  Amazing views of Lisbon from a multitude of unobstructed vantage points.
For more information, visit the Castelo de São Jorge website.
Castelo de São Jorge
Rua de Santa Clara
Lisbon
Phone: +351 218 800 600
Email: info@castelodesaojorge.pt
Hours:
1 November to 28 February – 9:00 to 18:00
1 March to 31 October – 9:00 to 21:00
Price:
Children (under 10): free entrance
Normal: €7.50
Students (under 25): €4.00
Family (2 adults and 2 children under 18): €16.00
Seniors (more than 65): €4.00
--------------------------------------------------
--------------------------------------------------