Bom Dia Sailing Cruises in Lagos provides the excitement of ocean voyages for all members of the family. Staff members are competent, well-trained, multi-lingual and friendly. Several cruises, at various lengths, are programmed for a variety of ocean fun.
Half a day of sailing…with a meal included! The Baia da Lagos provides 4 hours of fun exploring the rocks, cliffs and grottos. Enjoy the water, take a swim or soak in the sun. Then, the crew prepares a meal of grilled chicken, salad, potatoes, bread and wine.
The Grotto Tour is a 2-hour trip sailing to Ponte da Piedade. The ship anchors and guests board a smaller boat to get up-close views of the natural rock formations. There is also time built in to sunbathe and swim.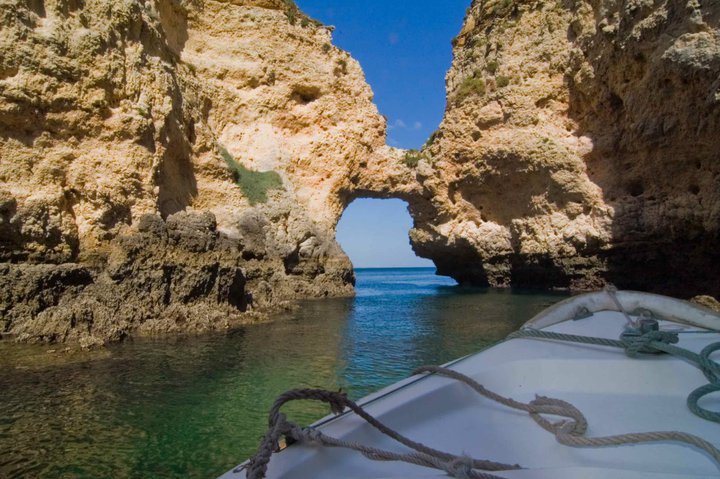 Fishing fun for everyone on the Fishing Tours. Families and groups of any skill level enjoy this trip. The waters are rich in sea bass, stone bass, garfisch, bream, squid, cuttle fish and mackerels. Staff are on hand to give some help if necessary. Bring Grandma too. Spectators are welcome.
Departures leave every hour from the Lagos Marina. For more information, visit the Bom Dia Boat Trips website.
Bom Dia Booking Office
Marina de Lagos Loja 10
Lagos
Western Algarve
Phone: +351 282 087 587
Email: info@bomdia-boattrips.com
Office Open Everyday – 9:00 to 18:00
Baia da Lagos (4 Hours)
– Departures: 13:00 – 17:00
– Adults – €45.00
– Children (age 5-10) – €25.00
Grotto Trip (2 Hours)
– Departures: 11:00 to 13:00, 13:00 to 15:00, 15:00 to 17:00, and 17:00 to 19:00
– Adults – €17.50
– Children (age 5-10) – €10.00
Family Fishing
– Adult – €35.00
– Children (age 5-10) – €25.00
– Spectators – €25.00
--------------------------------------------------
--------------------------------------------------