It's a zoo, a playground, a wet and wild pool, a farm, a nature trail all rolled into one big entertainment and recreational park.
The Biological Park of Serra da Lousã, in central Portugal, is a sustainable project intent to educate and intrigue guests with how humans, animals and land come together to create a biological ecosystem.
The complex is made up of inside and outside spaces. (Click here to see map of Parque Biológico.) A museum features exhibitions on farm life, and arts and crafts made from the land At the Quinta, kids learn about agricultural techniques, and learn about the tools and the chores involved in a working farm.
Also at the park is a maze inside a fruit tree orchard. Follow an adventure path through 320 fruit trees of 21 varieties.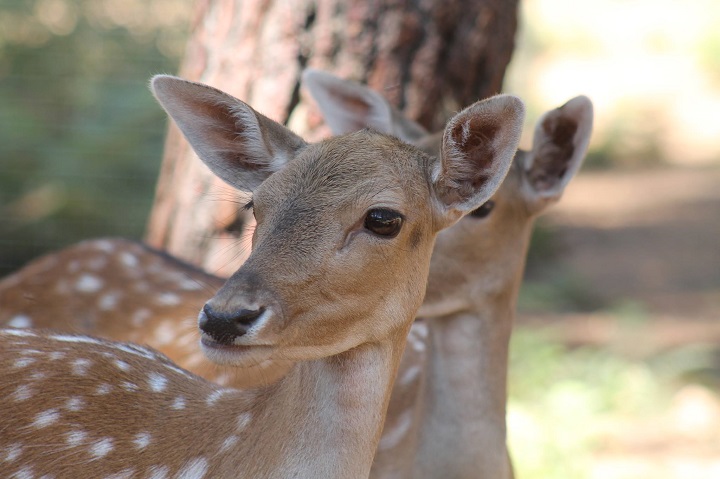 Animals found in the zoo and farm area include: rabbits, boars, llamas, otters, red squirrels, hedgehogs, snakes, geckos, tortoises, salamanders, ducks, and many, many more.
In the Sports and Leisure Zone, kids can run, play football, go horseback riding, participate in workshops, practice archery, shoot a blowgun, feed the animals, have a wonderful birthday party and do so many other activities. Bring your swimsuit too! The municipal pools are next door.
For more information visit the Parque Biológico da Serra da Lousã website.
Parque Biológico da Serra da Lousã
Quinta da Paiva
Miranda do Corvo
Central Portugal
Phone: +351 239 538 444
Email: parquebiologicoserradalousa@adfp.pt
Hours:
– Summer: June to August – 9.00 to 20.00
   May to September – 9.00 to 19.00
– Winter: October to April – 9.00 to 18.00
– Winter weekends and public holidays – 10.00 to 18.00
Prices:
– 1st October to 31st March:
– Children 1 to 2 – free
– Children 3 to 15 – €3.00
– Children up to 16 – €5.00
– Family ticket 1 (2 adults and 1 child) – €11.00
– Family ticket 2 (2 adults and 2 children) – €14.00
– Family ticket 3 (2 adults and 3 children) – €16.00
– Guided tours (groups of 12 people) – €18.00/group
– Guided tours (more than 12 people) – €1.50/person
– 1st April to 30th September:
– Children 1 to 2 – free
– Children 3 to 15 – €3.50
– Children up to 16 – €6.00
– Family ticket 1 (2 adults and 1 child) – €13.00
– Family ticket 2 (2 adults and 2 children) – €16.00
– Family ticket 3 (2 adults and 3 children) – €18.00
– Guided tours (groups of 12 people) – €18.00/group
– Guided tours (more than 12 people) – €1.50/person
--------------------------------------------------
--------------------------------------------------